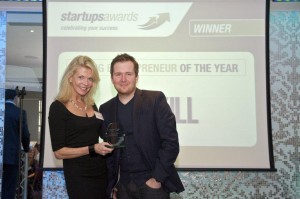 CoSkill is the next generation strategic consultancy. They deliver the best of three broken sectors: the tangibility and commerciality of management consulting and business strategy, with the power to change business; the consumer connection of marketing and advertising, with the ability to engage stakeholders; and the sheer power of digital technology, embracing web, social, mobile and data.
Steph Welstead, editor of Startups.co.uk, said: "We were blown away by the standard of entries to this year's Startups Awards. All of the businesses who made it to the 2011 final have shown innovation, guts and determination and the success they have achieved against the backdrop of the economic downturn is a true testament to the strength of UK entrepreneurship''.
Competition was fierce but the judges felt it takes a high level of intellect to intersect a market at a particular time and Craig Le Grice is one who stood out from the crowd. Since starting in February the company already have an enviable roster of FTSE 100 and Fortune 500 clients, who have turned to the consultancy for very specialised digital and social media marketing knowledge.
We would like to congratulate all of this year's winners and wish them continued growth and success in the years to come.