On the 29th January Rosemary was pleased to attend New Entrepreneurs Foundation (NEF) Live's 2019 Demo day held by Neeta Patel in Guildhall's historic Old Library and Print Room, in London. This was their largest event to date and a great success, with a large range of companies on exhibition and pitching, from mobile technology to food and drink. There were 60 companies exhibited and 16 pitches altogether.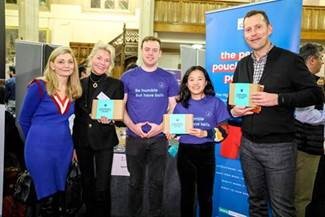 One particularly impressive company was Just Wears, a clothing company who have invented the 'most comfortable underwear for men.' Their underwear is made from a sustainable fabric made from wood and produced in a non-toxic way, which is a great focus to have as the clothing industry increasingly focuses on sustainability. They also have a unique pouch design that contributes to the comfortable fit as well as an anti-roll waistband to prevent them from slipping. They aim to start an 'underwear revolution' for men, and they seem to be right on track.
Another company that stood out was Techir who work with breakthrough technology in wireless optical laser-based communications called Free Space Optics (FSO). FSO technology has many benefits over other technologies including the ability to transmit terabit levels wirelessly, far more than any other technology. Though the technology was previously held back from mainstream markets, Techir has removed the issues preventing this. They are able to help deliver high speed, low-cost wireless in developed and developing countries, as well as removing the need for skilled engineers to help with installations. We are excited to see what Techir can achieve next!
Thank you very much to all those who organised the event and a big congratulations to all of the impressive companies who exhibited and pitched. It was a truly stimulating and inspiring day.