Congratulations to our client 23snaps with their first mover advantage.
23snaps, one of a number of mobile apps that target parents who want to share photos, videos and updates of their children within a private social network, has flicked the monetization switch today. It's launched an on-demand printing feature within the app to let users turn their uploaded photos into a physical printed product — both photo books and individual prints.
Available for both iOS and Android, as well as a web-based version, we've previously described 23snaps as like a Facebook for families, even down to its look and feel.
You begin by setting up profiles of your children in the app and optionally adding your partner, who can also have posting privileges, as well as any other friends or family members you want to privately share content with. You can then upload photos, enter height and weight measurements at various stage of your child's development, and add status updates to record those special moments, which will be enjoyed by close family and friends but might otherwise be considered as over sharing within an uber-social network like Facebook.
This content then shows up in your news feed and the news feed of those who you have chosen to share with. In addition, those friends and family members receive real time mobile or email notifications when you add a new update. To that end, 23snaps says that photo and video uploads have an engagement rate of 90% (meaning that on average, 90% of a user's connections will in some way engage with every piece of content they post), which it claims compares to Facebook's 10% engagement on an individual's posts. In addition, the average open rate of 23snaps email updates is said to be 70%, while the startup has passed 1 million items shared since launch.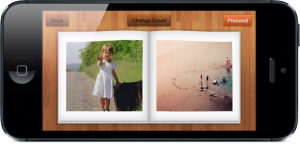 More details on how the new printing feature works: Users tap the print button and choose to print individual pictures or a photo book comprised of selected pictures, specific collections or favourites. They then choose to have their photos and albums sent to themselves or directly to friends and family. The "high quality" photo book (worldwide) starts at a minimum of 24 photos for £15 and prints (U.S. and UK-only) start at £6 for 20 photos.
Based in London, 23snaps was founded in January 2012 by Ivailo Jordanov and Yury Tereschenko. Jordanov was previously Head of Product at Espotting, a search service acquired by Findwhat in 2004. He also co-founded Zoomf.com, later acquired by UK newspaper Trinity Mirror. In 2009, he joined financial company Avans.bg in Bulgaria, where he still serves as advisor and board member. Tereschenko and Jordanov also both later co-founded the UK shopping company Styloko.