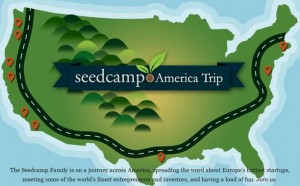 In February this year I posted on the Seedcamp Road trip to the USA. I jealously followed the Tumblr blog  and now Milo Yiannopoulos, the Editor in Chief of The Kernel, has written a great round up of the very successful trip.
Here are some of the numbers
The teams met with:
6 Accelerators
20 Companies
16 Investors
The teams experienced:
12 Learning sessions/lectures
4 Mentoring Days
18 Social events
The teams met:
77 VCs
65 Entrepreneurs
18 Corporate Executives
15 Marketing & PR Executives
And GREAT traction:
3 Term Sheets
13 Ongoing discussions
Hats off to the Seedcamp team!